Study now -
Pay later
The Frankfurt School Education Fund will finance your education
How does it work?
Study now - pay later.
We provide a flexible way to finance your higher education. With our education fund, you can finance your tuition at Frankfurt School with ease and carefree. The education fund supports your Bachelor, Master, MBA or LL.M. degree.
Your Advantages
Count on the advantages of the education fund to get going. You can rely on the advantages of funding independent of your parents' financial means during and after your degree program. You are free to plan your life and career as you choose. As partners, Brain Capital and your university will be by your side.
Programs
We can finance many different Bachelor, Master, MBA or LL.M. programs at Frankfurt School. The relevant conditions and additional information about your program can be found here.
This is how financing with the education fund works
Your desired education
Bachelor, Master, MBA or LL.M.
The Frankfurt School Education Fund enables you to follow through on your dream to study at a well-known university.
Our funding offer is independent of scholarships, stipends, and grants.
Frankfurt School of Finance and Management is a private, federally recognized business school. It offers degree programs in German and English as full-time or part-time programs. In its programs for working professionals, Frankfurt School cooperates with many large banks such as Deutsche Bank, Commerzbank, KfW, DekaBank, DZ Bank and Postbank as well as other companies such as Deutsche Telekom.

This university also offers Master's degrees such as Master of Science (M.Sc.), Master of Arts (M.A.), Master of Business Administration (MBA), and Master of Laws (LL.M.). Since 2016, students at Frankfurt School can finance their education with our educational fund.

Tuition payments are no longer an obstacle.
Cooperation with Brain Capital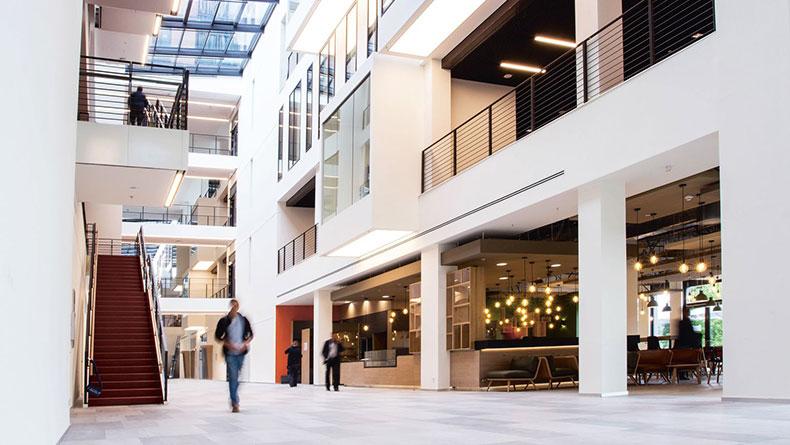 Brain Capital and the Frankfurt School have been cooperating since 2016 to allows students to pursue their desired degree at a private university. The cooperation enables us to offer an easy application process and the timely payment of your tuition during the degree program so you can focus on your course work. Together, Brain Capital and Frankfurt School represent a quality education without the financial burden.
This is what our
students say
"The flexibility offered by the education fund was the most convincing argument for me. A traditional loan from a bank would have limited my options after graduation too much. The education fund allowed me to easily start a business with my friends. It gives you the freedom to try something new - other students might use it for a gap year."
Tobias Weiper, founder of evopark
"Due to the education fund, I have freedom and flexibility even after graduation. I can carefully choose my future employer and do not have to compromise just to make installment payments towards a loan."
Anika Rehder, Master Student, Zeppelin University
"I want to thank you for your coaching from all my heart. It helped me tremendously with the job interviews and the preparation. It had a big impact on my success."
Dennis Bommersheim, Master Student, WHU